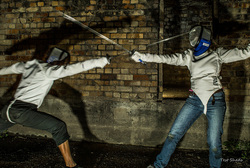 My response to a blog that contained this: "His self-image did not ride on "being right." His self-image was determined by the trust, the results and the growth of the individuals on his team."
While I agree with the basic premise - "be open to argument;" I am not sure I agree with the "with me" part.
Competition is a form of conflict. Many eschew competition because they believe it tears down rather than build up. The problem is not actually competition but something deeper: what Stephen Covey coined as "abundance mentality vs scarcity mentality"
Sidenote: in abundance mentaltiy, there is enough reward for all; e.g. every Mary Kay distributor could win a pink Cadillac. In scarcity mentality; there is only enough reward for the pinnacle. The problem is the latter evokes competing against others. So, it invites politics, "dirty tricks" ,etc. to "win" - and the win is self centered. On the other hand, the former invites collaboration because the win is organization-centered IF the win is tied to an organizational win and the outcome is open-ended in terms of who can win/earn.
The "with me" makes it personal - puts the argument on a scarcity mentality footing; i.e. you (the boss) must lose [the argument] so I can win - or vice versa; e.g. win-lose or lose-win - both of which evolves to lose-lose.
On the other hand, if I keep "with me" out of the invitation for argument, then I can create a scenario where the energies of argument are properly focused upon ideas - not personalities or ego.
Case in point: I once took over a small failing organization. One reason they were failing was because they bickered and back-stabbed thinking they had to win (really, to survive since the guy I replaced was more manager and leader and purposefully pitted one against the other - as he proudly proclaimed to me during his exit transition) I did two pivotal things:
The office manager and my deputy tried to sabotage the other to gain my adoption. After about the third time, I stopped the one ratting on the other and I called the other in. I reported was I was being told and also reported what the other had reported to me about the other person. I then laid down either they would work things out - in my presence - or I would fire both of them. They started to talk. They became great buddies - at one point on defending the other from me! That was a proud day.
The other thing is that I noticed people were practicing group think and group shift in staff meetings. I purposefully made a stupid suggestion and got nods of approval. I then cut my proposal down and went around the table asking why each person supported such a dumb proposal. After a few rounds of this, people got the message.
In both cases, I did not have people argue with "me". Rather, I had them argue with their behaviors and the ideas being rejoined. In so doing, it was not about "me" (albeit it was about me because it established the validity and desirability of my leadership) but was, rather, about the organization and the relationships that fueled it.
Another point: the word should be engage or communicate with me - versus argue with me. The point should be high IQ/EQ communications in which both parties shape an amalgamated position - not one in which one party owns and the other buys into. The key test is to challenge agreement with "why?" - "Why do you agree with me"
I will also tell you that inviting conflict does not mean you will get it. Where a person is in FIRO (inclusion, control, openness) will be a HUGE factor. And the Arena as explained by the Johari window is another HUGE factor. With my turned-around organization, I spent a lot of the time working with them to articulate our values and our culture so as to support them taking risk in giving feedback. And I had to walk my talk - as I demanded that they do also.
For those who are ready to use conflict to advantage, please take the Strength Deployment Inventory at
http://www.insightdelight.com/strength-deployment-inventory---the-sdi.html
. The SDI provides insights into one's propensities for dealing with conflict - constructively and purposefully to improve relationships and performance. Also, it introduces Dr. Porter's (creator) ideas, including but not limited to the Stages of Conflict.
Cordially,
Ed
Drive On!